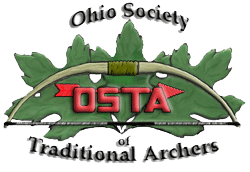 To The Good People of OSTA,
Our first shoot at Ross County has come and gone. We had a modest attendance of just under 140 shooters for the weekend. I'd like to thank Bud James and his crew for having the grounds all ready to accommodate our shoot and for having plenty of space for the campers. As always, the kitchen done a great job keeping us fed with good food. It was great to see some people there who were shooting with us for the first time.
We held our business meeting on Saturday afternoon. Attendance for the meeting was low. I'd really like to see more members at the meetings, as this is where we discuss important issues the club is dealing with and relay info for the shoots. This is the time to bring up issues and ideas.
We still have some outstanding debts owed from the kid's auction at last year's State Shoot. Those who still owe or are not sure if they owe should check with Mike Peters to check their status. Those who still owe will be required to pay before they are able to shoot, be scored or be in the running for shooter of the year. Over a third of the money from the kid's auction was still owed at the beginning of the Ross County shoot.
Nominations for the offices of secretary and president are open. No nominations have been made yet. We definitely need someone to step up for the office of secretary as Ted will not be available for this office next year. Nominees should have an understanding of basic computer skills including Word and Excel. I am currently open to staying in if that's what the club decides.
We also have a huge need for someone or a group of folks to step up and take over the responsibility of setting up and transporting the equipment and targets for the kids fun shoots. Unfortunately, nobody stepped up to handle the kid's fun shoot for Ross County and therefore we did not have a shoot for them on Saturday. We did have a few people who said they could help out at the shoots if someone could get the targets there. Right now, I have one person who may be able to get things over to Blackhoof for the next shoot. Transporting everything seems to be the big problem. Discussion about getting an enclosed trailer to transport targets, backdrop ect. was had and may be a possibility but before that could happen we need to be sure we have someone who could reliably pull the trailer to each shoot. I know there were several disappointed kids at the Ross County shoot. Folks, we need to make this happen, period.
Let me refer you to Article 2 section A of The OSTA Constitution.
ARTICLE II
PURPOSE
The purpose of the OSTA INC. shall be:
To foster, expand, and perpetuate the practice of bowhunting with traditional equipment in the State of Ohio.
I believe it was with great foresight that this, as well as the other sections, of Article II was written. Basically, it comes down to preserving what, we as a club, are all about and passing our practices and beliefs of traditional archery on to future generations to inherently protect what we hold dear. Let us not waste what all those that worked with our kids in the past go by the wayside.
We have several clubs interested in hosting our shoots next year. I would like to have as much input as I could from our members so I can try to get our schedule for next year drafted out. Let me know if you like a certain club or feel like we need to take a break from going to certain places. I would really like to have our schedule nailed down by the State Shoot this year.
Our next shoot will be at Blackhoof Bowmen on June 4-5. Hope to see you all there.
Matt Fout
honeysucklewoodworks@yahoo.com
740-648-5493
Here is a kink to the map for Claylick.
OSTA Shoot Schedule
2016 Shoot Schedule OSTA Banquet March 6 Claylick Bowhunters Heath Fun Shoot April 2 - 3 Apache Bowhunters Lockbourne May 7 - 8 Ross County Bowhunters Chillicothe, Oh June 4 - 5 Blackhoof Bowmen Jamestown, Ohio July 9 - 10 Rushcreek Sportsmen Belle Center August 6 - 7 Willard Conservation Club Willard September 3 - 4 OSTA STATE SHOOT Claylick Bowhunters Newark
Don't forget to bring your canned goods / non perishable food items with you to each shoot. Items are give to the local club to donate or distribute to the needy in their area.
Thanks for helping OSTA to give back to the communities we visit.
Please support these vendors, they support us!