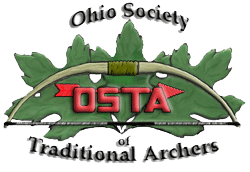 To the Good People of OSTA, I'd like to thank the folks of Apache for hosting our Fun Shoot again this year. It was awesome to see new faces and people getting to shoot traditional for the first time. We had a decent turnout of around 81 shooters on Saturday, but with the declining weather we dropped to 53 shooters on Sunday. We were a bit short handed on officers during the shoot, so I really appreciate those who stepped in to help set stakes, set signs, registration and also the tear down. I'd like to mention that Jan Wagner is missing her tablet and if anyone knows anything about its whereabouts, please contact Jan, Steve, or myself. Jan would be glad to know it was safe. It was good to see everyone that came out to the shoot, and I am looking forward to seeing everyone at the next shoot at Ross County Bowhunters in May. *****NOTICE***** Our normal route on Three Locks Road into Ross Country Bowhunters is closed. Those pulling campers or driving RVs should take the following route instead of the state detour route: Driving 23 South towards Chillicothe: Pass Three Locks Road and turn left on Trego Creek Road then turn right on Massieville Road (at the stop sign), go approximately a half mile turn left on Moss Hollow Road. The bow club will be three miles up Moss Hollow on your left. Driving 23 North towards Chillicothe: Turn right on Massieville Road. Go about a mile and a half turn right on Moss Hollow Road. The bow club will be three miles up Moss Hollow on your left. I spoke with Bud James and there will be serving dinner on Friday. Breakfast, lunch and dinner on Saturday. Breakfast and lunch on Sunday. There is plenty of camping space. We will be having a meeting Saturday afternoon at 4:30. Some things we will be discussing are the following: The two year term for the offices of Secretary and President will end this year. Ted has decided he will not be running for another term for Secretary. Nominations will be accepted throughout this year and positions will be voted on at the State Shoot. Dan has indicated to me he would like to pass of the position of handling the kids fun/balloon shoot on Saturday's to someone as soon as possible this year. Please consider if you are able to help out with the kids program as it would be a real shame if the kid's balloon shoot was forced to close. Perhaps it could be done by committee if we had enough people willing to help a little. Our kids and youth are the future of our club. On that note, I'd like to congratulate Gracie Genteline on being successful on her ram hunt that she won at our State Shoot this past year. Way to go Gracie, I heard you made a great shot. Also, anyone interested in helping at the registration and merchandise table, please contact me. There is a real possibility we could be shorthanded a bit at some shoots this year. There should be plenty of hats, shirts, etc at the Ross County Shoot. Best of luck to all those going turkey hunting. Hope to see you all there. Shoot Straight, Matt 740-648-5493 honeysucklewoodworks@yahoo.com
Here is a link to the map for Claylick.
OSTA Shoot Schedule
OSTA Banquet March 8 Cardinal Shooting Center, Merengo Fun Shoot April 11 & 12 Apache Bowhunters Lockbourne May 2 & 3 Ross County Bowhunters Chillicothe June 6 & 7 Blackhoof Bowmen Jamestown July 11 & 12 Rushcreek Sportsmen Belle Center August 1 & 2 Hocking Valley Sportsmen Albany September 5 & 6 OSTA STATE SHOOT Claylick Bowhunters Newark
Don't forget to bring your canned goods / non perishable food items with you to each shoot. Items are give to the local club to donate or distribute to the needy in their area.
Thanks for helping OSTA to give back to the communities we visit.
Please support these vendors, they support us!