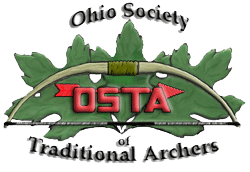 A few observant folks let me know that the schedule I sent with this mornings newsletter was in fact last years schedule. Those of you who would like to join us THIS year should follow the schedule below. Otherwise, I'll see you last year. Buckeye
Here is a kink to the map for Claylick.
OSTA Shoot Schedule
2016 Shoot Schedule OSTA Banquet March 6 Claylick Bowhunters Heath Fun Shoot April 2 - 3 Apache Bowhunters Lockbourne May 7 - 8 Ross County Bowhunters Chillicothe June 4 - 5 Blackhoof Bowmen Jamestown July 9 - 10 Rushcreek Sportsmen Belle Center August 6 - 7 Willard Conservation Club Willard September 3 - 4 OSTA STATE SHOOT Claylick Bowhunters Newark
Don't forget to bring your canned goods / non perishable food items with you to each shoot. Items are give to the local club to donate or distribute to the needy in their area.
Thanks for helping OSTA to give back to the communities we visit.
Please support these vendors, they support us!