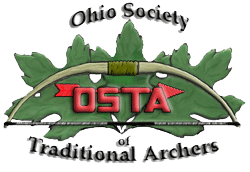 To the Good People of OSTA, I hope everyone's hunting season has gone well so far and that everyone has had a good holiday season. With the beginning of 2016, I am looking forward to another great year for OSTA. We had many great shoots and good times last year and would like to build on that this year. We will be bringing our 2015 season to a close at the banquet to be held on March 6th, 2016 at Claylick Bowhunters. The address is 12680 Lesley Rd., Heath OH 43056. Please bring a side dish and/or dessert. OSTA will be providing meat, drinks and dinnerware. I would ask that you rsvp either by email, phone or text to me so that we can prepare more accurately this year. Last year I took a guess at how many would attend and way overbought on some items. I'm thinking, those that rsvp will be the first ones to be released to the food. Probably an imperfect system but……. If anyone has a better idea, let me know. Those who purchased items during the auction at the State Shoot and have not paid should be prepared to settle up their account with Mike. Anyone wishing to camp at Claylick may do so. Donations for electric hookups (usually $10) will be appreciated. Those wishing to stay and play at Cherry Valley Lodge, located just a few miles away must make their own reservations. Cherry Valley is a lodge and indoor water park. I tried to get us a good package deal for families. It looks like $179 for four people which includes room and waterpark passes is what we'll have. We will start having a social hour around 11 a.m., eat at noon, have a short business meeting around one, do awards and membership bow giveaway after that. After that we can hang out for as long as you'd like or until we get kicked out. A few items to think about as far as the club and rules go. The age for the old timers class was brought up this past year. I expect we will be talking about that more this year so I ask that everyone give that some thought as to how we will proceed. Also, I have been contacted several times by varying people and/or organizations asking about OSTA's stance on certain concerns regarding hunting issues within the state. I personally have mixed emotions about if we should become more of a voice in political and regulatory issues. I'd like the club to consider what we should do, if anything, about becoming more involved in these forums. March 6th- OSTA Banquet, Claylick Bowhunters April 2-3- Fun shoot at Apache. OSTA members shoot for free Saturday May 7-8- Ross County Bowhunters. OSTA Mothers shoot for free on Sunday. Happy mothers day!!! June 4-5- Blackhoof Bowmen. July 9-10- Rushcreek Sportsmen. Mmmmm, fish August 6-7- Willard Conservation Club September 3-4- State Shoot at Claylick Bowhunters Matt 740-648-5493 honeysucklewoodworks@yahoo.com
Here is a kink to the map for Claylick.
A Note from Ted Lippold, Secretary
I shall not seek and will not accept the nomination for the office of president of the United States. L.B.J. wrote that, smart guy! I like sitting at the registration table, putting names to faces, getting to know you more. Mike is a great partner, Matt sits and helps out when needed, Glen jumps in adding score cards, we are a good team. I do not like the negative stuff that comes with the job. My computer has an issue with me, or I with it. Thank you Nancy for fixing it several times. I deal with angry, upset customers at work all the time, don't feel like doing it in the fellowship I love. O.S.T.A. is a great way to be out and enjoy others that enjoy what I enjoy…I would like to keep it fun, so, this will be my last year as your secretary. Nancy set up a new program that makes the numbers easier to deal with, anybody can do it. When you are sending in renewals this year can you let me know if you want printed or electronic newsletter. See you at the banquet Ted
OSTA Shoot Schedule
OSTA Banquet March 6 Claylick Bowhunters Newark Fun Shoot April 2 & 3 Apache Bowhunters Lockbourne May 7 & 8 Ross County Bowhunters Chillicothe, Oh June 4 & 5 Blackhoof Bowmen Jamestown, Ohio July 9 & 10 Rushcreek Sportsmen Belle Center August 6 & 7 Willard Conservation Club Willard September 3 & 4 OSTA STATE SHOOT Claylick Bowhunters Newark
Don't forget to bring your canned goods / non perishable food items with you to each shoot. Items are give to the local club to donate or distribute to the needy in their area.
Thanks for helping OSTA to give back to the communities we visit.
Please support these vendors, they support us!