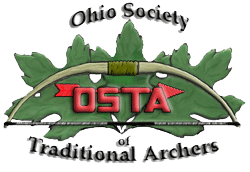 To the good folks of OSTA, Another great shooting event with pleasant skies and beautiful camping nights. A thunderous array of coyote howls late one night and a stampeding herd to the peach cobbler Joy made another night, awesome stuff Joy! What a great time at Hocking Valley. Thanks to all the guys and gals there that accommodated us helped make a great shoot. I, as well as many others appreciated the ups and downs of the course. Just like a nice walk in the woods or a true hunting type scenario. Well done fellas and gals at Hocking. There are several things I should mention in regards to our meetings and the upcoming state shoot. Participation in our meetings has been sub par as far as I'm concerned. This is OUR club, that means you! We don't have to have major issues every time to discuss but input is appreciated no matter what. We do have a vote coming up at the state shoot for the offices of Treasurer and Vice President. Glenn and Mike have both served diligently as required, and I truly appreciate that fact. Mike has indicated that he has no problem staying in the office of treasurer. Glenn has faithfully filled out the remainder of what was my term as V.P. From what I understand, Glenn has no problem staying on as V.P., but would like some designated help as he may not be able to attend all the shoots next year. We will bring all this up at the state shoot for discussion, and possible nominations and vote on it. We will be doing a memorial shoot at the state shoot around dusk on Saturday. Between Claylick and myself, we determined that we will have a memorial tree that we will shoot into so we all can have a chance to walk by and read the names on arrows and not have to worry about arrows being picked up and displaced. I suppose we will do this after the Scott Gensert Memorial kid's auction and if anyone wants to say a few words prior to us doing this memorial shoot, that will be welcome and encouraged in my book. As far as I know, we will be shooting into a big oak tree and anyone can visit it anytime if they feel the desire. I think that's pretty cool. Camping at the state shoot. There is electric available on top of the hill. Extra camp spots have been made by the members of Claylick to accommodate. Electric sites are $10 for the weekend, self regulated, so see a Claylick official or me please. There will be showers, indoor bathrooms ect. Claylick has spent a lot of time and money to build new facilities for OUR state shoot. Please donate accordingly for your usage. Now for the fun stuff! There are going to be more vendors at the state shoot this year. There are going to be more give aways, there are going to be more raffle items, there is going to be music, there is going to be some awesome food, the kids auction is supposed to have some great items donated, and rumor has it, Hoot Gibson may show up! I wonder about that Nancy Miller gal and her fancy dresses? Always a good time at the auction. Be sure to bring some good items that you no longer need or donate new items to raise funds for the kids. Like I said at the meeting, I'm short on time this year due to a hunt so any help finding good deals on door prizes or just helping out in general with logistics would be appreciated. I know several members outside of the officers have worked there butts off this year to make this state shoot successful. It is greatly appreciated. Thanks to all the bowyers and other craftsmen that have already donated items. I think we'll be up around 8-10 bows donated for auction, raffle or give away. Pretty impressive, not to mention the arrows, hunts, memorabilia and other items. Hopefully, commemorative shirts will be don and I hope we finally found a place to do our hats. We also have a photographer coming and we will plan on doing a group photo after the meeting to commemorate 25 years. The Flint Ridge Rendezvous coincides with our shoot and is only ten miles away. We may be able to set up a special tour if anyone is interested. Hopefully, we will see some crossover to our event. I hope to see you all up there. Let's blow this one up and celebrate over 25 years of traditional archery. Shoot Straight, Matt 740-648-5493 honeysucklewoodworks@yahoo.com
Here is a kink to the map for Claylick.
OSTA Shoot Schedule
OSTA Banquet March 8 Cardinal Shooting Center, Merengo Fun Shoot April 11 & 12 Apache Bowhunters Lockbourne May 2 & 3 Ross County Bowhunters Chillicothe, Oh June 6 & 7 Blackhoof Bowmen Jamestown, Ohio July 11 & 12 Rushcreek Sportsmen Belle Center August 1 & 2 Hocking Valley Sportsmen Albany September 5 & 6 OSTA STATE SHOOT Claylick Bowhunters Newark
Don't forget to bring your canned goods / non perishable food items with you to each shoot. Items are give to the local club to donate or distribute to the needy in their area.
Thanks for helping OSTA to give back to the communities we visit.
Please support these vendors, they support us!