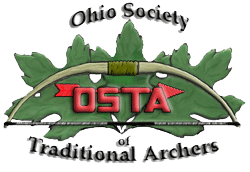 To the Good People of OSTA, Despite missing several of our regular members, we had a pretty nice turnout for our shoot at Blackhoof. I believe we had somewhere around 175?? shooters for the weekend. For the first time I can remember, boots were not a necessary part of the wardrobe at this shoot. The folks at Blackhoof done a good job getting everything ready for us and their work was appreciated. There were a few things that came up that I addressed at the meeting but I believe it is worth mentioning again. We need to leave the grounds as good, and, preferably better than when we arrive. This means policing our camping areas as well as the course for trash. Unfortunately, there was also an issue of money missing at the pop stop on the course. Please make sure you pay for what you take on the course or at least pay for it at the clubs concession area when getting back off the course if you didn't pay at the stop. It would be a good idea to mention what the money is for if giving money at the concession area. I appreciate everyone's diligence on keeping their pets on a leash at this shoot and I hope the effort continues. This is more important than just keeping pets from being an annoyance. Our insurance policy does not cover issues with personal pets. Thanks to all those who helped with the kids shoot in Dan's absence. Dan said he will be at the Rushcreek shoot but we still need at least three other people to help out to keep things safe and moving along. The backstop for the kids has been doing a good job and also makes a great movie screen. Paul Knisely ran the movie theater again even though we didn't have many takers. It looked like Paul and Chris had a good time anyway. I talked with Charlie at Rushcreek and they have everything ready for us for the July shoot. They will be having their all you can eat fish fry on Saturday evening for $8. Mike Peters will not be able to make the July shoot so we will be a little shorthanded at the table. Anyone interested in helping out please contact me. I'd like to see us have a strong showing at Rushcreek. Hope to see you all there. Have a fun and safe 4th of July. Best Regards, Matt Fout 740/648/5493 honeysucklewoodworks@yahoo.com
A note from Buckeye: I apologize for sending this out a little late, I had some trouble with my email. As in, I forgot to check it..
OSTA Shoot Schedule
OSTA Banquet March 8 Cardinal Shooting Center, Merengo Fun Shoot April 11 & 12 Apache Bowhunters Lockbourne May 2 & 3 Ross County Bowhunters Chillicothe, Oh June 6 & 7 Blackhoof Bowmen Jamestown, Ohio July 11 & 12 Rushcreek Sportsmen Belle Center August 1 & 2 Hocking Valley Sportsmen Albany September 5 & 6 OSTA STATE SHOOT Claylick Bowhunters Newark
Don't forget to bring your canned goods / non perishable food items with you to each shoot. Items are give to the local club to donate or distribute to the needy in their area.
Thanks for helping OSTA to give back to the communities we visit.
Please support these vendors, they support us!