I'm busy working on my blog posts. Watch this space!
Please reload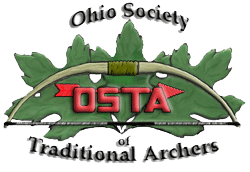 To the good folks of OSTA,
OSTA FamilyIt is with heavy heart I pass along the news of the passing of Ted Young.His loyal friendship and welcome presence at our shoots will be greatly missed.A link to his obituary with funeral information: Ted YoungFor anyone who may attend, as is our custom, please bring an arrow for a memorial to Ted.BuckeyeMike
Please reload

OSTA Banquet
March 5
Claylick Bowhunters
Heath

Fun Shoot
April 1 - 2
Apache Bowhunters
Lockbourne

May 6 - 7
Ross County Bowhunters
Chillicothe, Oh

June 3 - 4
Blackhoof Bowmen
Jamestown, Ohio

July 8 - 9
Rushcreek Sportsmen
Belle Center

August 5 - 6
Willard Conservation Club
Willard

September 2 - 3
OSTA STATE SHOOT
Claylick Bowhunters
Newark

Don't forget to bring your canned goods / non perishable food items with you to each shoot.
Items are give to the local club to donate or distribute to the needy in their area.
Thanks for helping OSTA to give back to the communities we visit.
Please support these vendors, they support us!